PlayStation at E3 2017: what PS4 fans can expect from Sony this year
E3 2017 runs Tuesday June 13 through Thursday June 15, but as usual, the real action takes place in the pre-show press conferences.
This year, Sony has opted for its usual slot and you can tune into the PlayStation E3 conference on Monday, June 12 – after Microsoft and Bethesda.
Although it doesn't have the first slot or new hardware to show, we're expecting big things from Sony at E3 2017 because PS4 has a stack of great games coming. Here's what you can expect.
We've focused on first-parties and presumed exclusives here, but that's not all we'll see during the PlayStation conference, of course; Sony is sure to highlight a stack of big third-party titles at E3 2017, whether they're exclusive or not. Expect more on that in an upcoming feature.
The studio responsible for Heavy Rain and Beyond: Two Souls is expected to work absolute magic on PS4, as it did for PS3 last generation. First announced at Paris Games Week 2015, Detroit: Become Human is Quantic Dream's followup to that incredible "Kara" tech demo – which was actually built on PS3. What can the team do with Sony's more powerful console? Have you seen The Dark Sorcerer? Yeahhhhh. And David Cage called that the minimum of what the PS4 can do in his team's hands.
So we expect Detroit: Become Human to be spectacular, at least in the visuals sense. Story-wise, we know it's about androids, but Cage wants us to know Detroit isn't hard sci-fi; it's a more human story, all about choice, and will offer plenty of replay value on its 8-10 hour playtime.
Otherwise, we don't know much; although we've seen some great trailers and stills, Sony and Quantic Dream have been very cagey (ah ha) about this PS4 exclusive, which we wouldn't be terribly surprised to see ship with extensive PlayStationVR and PS4 Pro support. Expect it to go big at E3 2017.
When Days Gone made its debut at E3 2016, a rumour went around that Sony hadn't intended to give it such a lengthy showcase, but had to substitute it in at the last minute after Rockstar pulled Red Dead Redemption. Is this true? Well, it seems more plausible than Sony devoting not one but two highlight spots to a zombie game it then promptly stopped talking about altogether.
We don't really know what Days Gone even is. It looks a bit like an action-adventure zombie apocalypse affair, maybe partially inspired by Sons of Anarchy, but although it's open world with a day night cycle and crafting, it looks to have a traditional gaming structure with missions rather than being a sandbox survival game. You can approach these missions however you like, including with stealth – which is interesting given developer SIE Bend was responsible for Syphon Filter.
The creatures in Days Gone are actually Freakers, not zombies, and will exhibit different behaviours depending on what you do. It's really tempting to write this off as something Sony commissioned to fill in the zombie survival gap in its lineup, or to somewhat sate appetite for a Last of Us sequel, but we're hoping it'll turn out to be a bit more interesting.
We'll all know for sure after E3 2017; if Sony goes big on this one again, we might be looking at a hot ticket. If not, well – it wouldn't be the first big first-party E3 announce to just quietly lie down behind the barn and die.
A close second place to Days Gone in the "big PS4 exclusive we have to Google to remember what it is", Dreams is a new creative suite for PS4 from Media Molecule, the team that gave us LittleBigPlanet and Sony's (under-supported) Play Create Share initiative.
The idea of Dreams is that anyone can build and animate complicated 3D worlds and characters using simple tools, to make games and movies – or 3D printed objects, seriously. It quite literally allows you to sculpt your dreams and then have other people experience them, if you like. A gameplay demo from Paris Games Week suggests Dreams has multiplayer and other features, which is more information than we got out of the same show; Pat seems to have enjoyed his Dreams demo, but he was literally stoned so his reporting was … erratic.
Assuming Media Molecule is anywhere near the enormous amount of money Sony must have thrown at it and must release something commercially instead of sitting around revolutionising accessible creative technology and building a better and more beautiful world, we might get a release date for Dreams at E3 2017.
"Oh we could never make a sequel to The Last of Us," said Naughty Dog. "We know you loved it and it sold like hotcakes giving handjobs" – we're paraphrasing here – "But the story was whole and complete and cannot be continued."
And then it tripped over at PlayStation Experience 2016 and jellybeans came pouring out of its briefcase in the form of an amazing The Last of Us Part 2 announcement trailer. We will never trust again.
In all seriousness, Naughty Dog has said it wouldn't have started this project if it hadn't hit on a really good idea, and it's not like it needs to pump out sequels. The second story is described as a complement to The Last of Us, focusing on hatred, and since you play as Ellie in The Last of Us 2 more than a few of us are pretty convinced that Joel is dead. Which is terrible! But also kind of amazing, right?
The Last of Us: Part 2 does not yet have a release date and probably won't release this year, but it's probable Sony will show it off at E3 2017 – if only because the conference is a big deal for retail partners and investors who don't necessarily tune in to other events throughout the year.
Uncharted: The Lost Legacy is what happens when Naughty Dog starts making DLC and loses its head: a proper standalone game, about two-thirds the size of a regular Uncharted release, with a story too big for an add-on.
What basically amounts to a new, unexpected Uncharted game is a big deal, and it's probably not getting the attention it deserves, as there's still a heap of confusion of whether it's DLC or what. But Uncharted: The Lost Legacy releases in August, so Sony is in a perfect place to say "hey, here's a big new PS4 exclusive right in the middle of the release drought" as part of its E3 2017 show.
Uncharted: The Lost Legacy stars Chloe, Nadine and the biggest environment of any Uncharted game so far, which ought to make up for Nathan Drake sitting this one out. It's probably the last Uncharted game ever, too.
That said, please see the previous slide on The Last of Us Part 2, and also Naughty Dog's track record with declaring Uncharted finished. In any case, a must-have for fans.
When it comes to E3, Square Enix is a bit of a non-entity; since Konami dropped out of the race, it's repeatedly won the award for most dispirited and awkward conference. This is kind of amazing since Square Enix has some pretty hot properties, but on the other hand it does mean Sony's show is where we get to see games like Final Fantasy 7 Remake.
Announced during Sony's E3 2015 press conference, Final Fantasy 7 Remake is something that seemed impossible right up until the moment it wasn't – and, to be honest, not everyone's convinced even now. We're all too familiar with director Tetsuya Nomura's chain-dragging (see: Final Fantasy 15, Kingdom Hearts 3).
But for all he was surprised to find himself in charge of Final Fantasy 7 Remake, Nomura hasn't been shy about discussing the project. Obviously, it's not a turn-based affair – this target footage shows off the feeling of "speed" Square Enix is aiming for, and Nomura has said gameplay will involve stealth, cover and grenades. What it is going to be is episodic – a multi-part series of full games – because otherwise the team couldn't fit everything in. That's because the story is being expanded to fill in the blanks and acknowledge all the extra details supplied by Advent Children, Crisis Core and more – as well as diving into characters like Biggs, Wedge and Jesse.
We honestly have no idea when the first part will release, although we've been told it's a way off yet and we know Square Enix is still working on the opening scene.
However, after two years we're expecting to see another very pretty Final Fantasy 7 Remake trailer at E3 2017. If Sony and Square can give us a release window, all the better.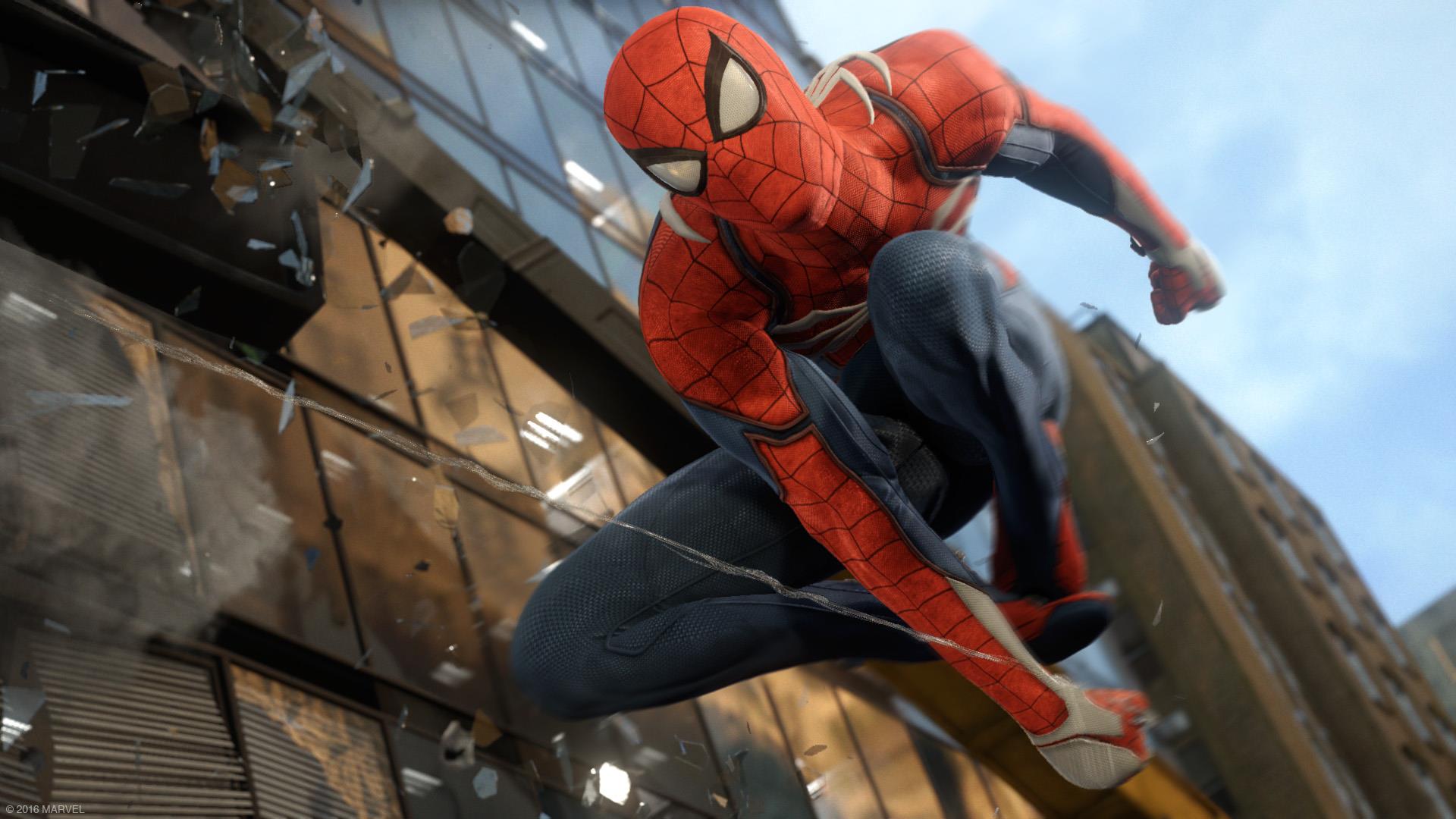 Sony surprised us all at E3 2016 by announcing an Insomniac-developed Spider-Man game, but it was Marvel that really knocked our socks off by saying Spider-Man releases this year.
If that's true (non-games executives are rather more comfortable making and then breaking release promises than we're used to in our little industry), it's a heck of a turn around. 2016, we get a cinematic trailer. Total silence follows, then in 2017, the game's out? Sony's going to have to give us a good look at Spider-Man at E3 2017 is this is going to be seen as anything more than a quick cash-in.
It certainly seems like Insomniac knows what it's doing with the hardware, given the lovely Spider-Man E3 2016 tech demo was running on a bog-standard PS4 and Sony's already boasting about Spider-Man's PS4 Pro support. We have great hopes that a hot property is just what the team needs to draw attention to its action chops, which were sadly undersold by the cringe-worthy humour of Sunset Overdrive and the grimdark overhaul of Fuse.
Set your anticipation levels to "cautious optimism" for Spider-Man PS4. We certainly have.
We keep forgetting Knack 2 is a thing, and there's a good reason for that: the first Knack was rubbish, and we'd all rather pretend it ever existed. Even Sony seems a bit embarrassed by the whole thing, debuting Knack 2 at PSX 2016 and then quietly never speaking of it again.
It's too much to hope this situation will last. Mark Cerny will be trotted out on stage at E3 2017 and we'll all sit in stony silence as grown men jibber about how much fun they're having playing an action platformer with so much personality (?) and heart (??) and – ugh, feel a bit ill just thinking about it. It will be a good opportunity to have a pee break, though, and since Sony seems determined to destroy the kidneys of attendees, that's good news for all of us at home.
With apologies for those of you with spawn seeking a family-friendly experience, those with chronic nostalgia and masochists who for some reason enjoy the wonky, fiddly nonsense that is platforming in the 3D age, Knack 2 is the Sony exclusive we care the least about in all the world. If only it weren't inevitable.
Ha ha oh wow, speaking of platformers: Crash Bandicoot N.Sane Trilogy will probably be on show during Sony's E3 2017 press conference. We say "probably" because Activision and Sony have sent very mixed messages about whether Crash Bandicoot is a PS4 exclusive or not, in a clear case of the left hand not knowing what the right is doing. Is this another of those Rise of the Tomb Raider situations where they're just not allowed to say? And if so, is Sony still going to show some love for the character who once stood as its unofficial mascot?
Who the heck knows. I'll tell you what we do know – Crash Bandicoot N.Sane Trilogy looks very faithful to the original despite the glorious coat of new paint elevating it out of the eye-bleeding horrors of the PSOne era.
The gameplay is almost certainly going to result in a few smashed Dual Shocks as we all remember what things were actually like back then, but it will go down a treat anyway; fans have been frothing with excitement ever since Sony's first vague announcement of the Crash Bandicoot remaster at E3 2015, and fairly passing out with joy since The N.Sane Trilogy announcement at PSX 2016.
Unless Activision and Sony have suddenly lost interest in each other, which seems unlikely after the last few years of frankly sickening PDAs, you'll likely see Crash Bandicoot on the PlayStation stage at E3 2017, where he belongs.
Surprises!
Disappointingly, it's been confirmed that Death Stranding won't be at E3 2017 and neither will Shenmue 3, so we're not really expecting even a new trailer for either title any more.
On the other hand, Sony has said that it has some surprises for us – and decent ones, too: "big announcements" from Japanese developers.
We expect some of these surprises to include a From Software game, as discussed in our third-party E3 2017 rundown, but it's exciting to think what the others might be.
Since Sony does love to announce new PS4 games years in advance, we're hoping for new titles from outside Japan, too. We're not at all confident about the Bully 2 rumour, to be honest, but that Life is Strange prequel might be legit.
Most intriguingly, what if there were, like … actual surprises? Not sequels or reboots or whatever, but brand new and exciting games? Wouldn't that be worth staying up for!
Look, we like PlayStation VR. We really do. Virtual reality amazing. But it also makes half the team sick, at least one of us can't get over the drop in resolution from their fancy telly, and there just aren't that many games for it at a price point we'd care to lash out on. We'd really like to see Sony come up on stage at E3 2017 and justify our expensive headset purchases by showing off some absolutely amazing, unmissable experiences.
This will probably not happen, though. Instead, we'll probably be cycled through a bunch of cute, interesting but ultimately non-impactful offerings from Sony's array of jobbing studios. The segment will either be so short you'll miss it if you blink, causing early investors to explode with wrath (see: the Vita) or so protracted that Twitter will turn into a nightmare landscape of the same six "I'm so bored I fell asleep" jokes for however long Sony stretches the nightmare (see: PlayStation Move).
Love you Sony, but also: know you pretty well at this point.
Read more here: VG247