What are the best games of 2018? We're only a little way into it, but 2018 is already looking like a brilliant year for great video games. Both the PS4 and Xbox One are into that wonderful point in a console's lifecycle where the tech has been mastered and developers are squeezing every ounce of power they can out of them, releasing some of the best works of the generation.
With that in mind, we've put together a list of the best games so far in 2018. We'll update and shift it around as new games muscle in.
Here are the best games of 2018 so far:
Far Cry 5
Far Cry 5 is not the radical departure some thought it would be. It's an open world crammed with animals to hunt and manipulate, monologue-loving bad guys to shoot, and fire to spread. It's stuffed with side quests and places to explore, constantly teasing you away from the main quest with distractions. Only this time, the way the world reveals itself to you is different.
You fly, drive, boat, or wingsuit past a location to mark it on your map, and you talk to people to unlock quests. This tweak means it never feels overwhelming – your map is never obscured by hundreds of objective markers.
This is the best the series has been since Far Cry 3, offering up a refreshing setting, touching on relatable topics, and layering over it with the most polished shooting in the series yet. Plus, how many other games let you go fishing only to have your relaxing hobby interrupted by a bear that's on fire? Read the VG247 Far Cry 5 review for more.
Monster Hunter: World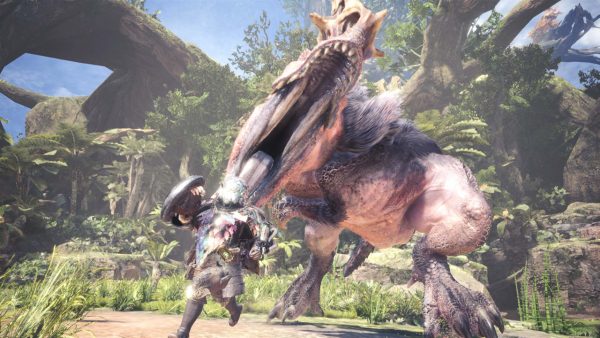 There's a reason Monster Hunter: World took the number one spot on our list of the best co-op games – it's bloody excellent, that's why. Monster Hunter has always been a series that's difficult to get into, but World makes it friendlier to newcomers. It also takes the fantasy to the next level, introducing a believable ecosystem and a seamlessly explorable open world.
When the fantasy is about hunting down massive beasts, this is all important stuff – it makes the monsters appear more authentic. Then there are other quality of life improvements, adding more weight to movement, and making guns work like they do in traditional third-person shooters, among other things. And if you prefer to get in close, Monster Hunter: World has some of the most satisfying melee combat in a modern game.
If you are taking your first steps in the New World, why not hit up our Monster Hunter: World guide.
Sea of Thieves
Yes, Sea of Thieves doesn't offer all that much to do. You basically repeat the same three mission types until your eyeballs fall out of your head, and it's fair to have concerns over the game's longevity. Still, it's a credit to developer Rare that no two voyages are ever the same, despite those repeating mission types.
Sea of Thieves is a sandbox for impromptu fun – a blank canvas for improv comedy and hijinks with friends. It also features one of the best sailing simulations ever created in a game, with a galleon requiring four friends working together to successfully navigate through choppy waters or to battle a rival crew. See our Sea of Thieves review for more.
Batman: The Enemy Within
I thought I was done with the Telltale template when I started playing the first season of Batman after it arrived for free on PS Plus, but it pulled me in. Season two, The Enemy Within, is even better. It uses the relationships built up in the first season to create a truly interesting and unique Batman tale, allowing you to mould your own Joker origin story.
Telltale's best work is still Tales from the Borderlands – honestly, just play it – but this is up there with The Walking Dead, fighting for second place. Where most Batman stories focus on the Dark Knight himself, this feels much more personal to the man behind the mask. Which disguise will you wear?
Shadow of the Colossus
The Shadow of the Colossus remake proves great games don't age. Under the hood, Sony's monster-stabbing classic is still exactly the same as it was on the PlayStation 2 – its barren lands have just been covered in windswept grass fields, its lighting has been improved, and all the textures have been replaced. You can almost feel colossi hair in your mouth when poking these majestic beasts to death.
Whether you have never played it before or you are looking to revisit one of the greatest console exclusives of all time, Shadow of the Colossus 2018 is an essential purchase.
Warhammer: Vermintide 2
Vermintide 2 is how a sequel should be done. It's the same brilliant co-op game with more options, a better loot system, more enemy types, and more visual variety. It doesn't get rid of anything fans loved about the first game, it just improves, adds, and polishes what's there.
Taking on one of a handful of predefined roles, you have to fight your way through different scenarios with co-op partners, battling rat men and otherworldly warriors. An AI director throws waves at you and mixes the action up, ensuring that you never have to exact same experience each time. There's a reason Vermintide 2 takes Left 4 Dead's place on our list of the best co-op games.
Yakuza 6
Yakuza has always been a series, at its heart, about distractions. Whether you are taking part in rhythm action karaoke, having a round of darts, or playing a classic Sega game in one of its arcades, there's always plenty of dicking about to be doing.
But between all that messing around, you can't move an inch in its rendition of Tokyo without some goons trying to kick you across the street. Luckily, the biggest core improvement to Yakuza 6 is its fighting system. There's an all-new physics system underpinning it, and it makes booting a bicycle at someone's head all the more satisfying.
It might be the sixth game in the series, but this is a great entry point for anyone who's never experienced the bizarre hyper violence of a Yakuza game. Check out our Yakuza 6 review for a more in-depth look.
The post Best games 2018 – the best and brightest games of the year so far appeared first on VG247.
Read more here: VG247