The best Minecraft seeds – what are they? In fact, what even are Minecraft seeds? In the simplest terms, seeds are a collection of digits that decide what goes where in Minecraft.
Whether you want a sprawling jungle or an inhospitable ice biome, we've got you covered. Whatever your fancy, these Minecraft seeds have something for everyone.
However, do keep in mind every time a new update rolls out there's a chance the new data could alter how the seed generates the world. Maybe something doesn't show up or it's moved really far to the left, that sort of thing.
Every seed here works as of writing, but if you're reading this in the future, which is your present, things may appear a little differently. But don't forget, if you're a Java Edition user, you can always roll back to a previous update in the launcher options. With that in mind, let's start there first.
The best Minecraft seeds Java Edition – PC
Titanic 2: Sink Harder (1.13)
Seed: -969446959
With this seed you'll spawn on an island surrounded by icebergs. But don't get too comfy up in here, because if you turn 180 degrees and dive into the water you'll be treated to a shipwreck and the chance of loot. This seed is pretty much the sequel to Titanic you never knew you wanted.
Mansion Fight Club (1.12)
Seed: 1483524782
For those looking to get into a scrap the second they spawn, this seed dumps you in a world near a mansion. Trek through the jungle and you'll find this wooden deathbed waiting for you on the other side. Just keep an eye out for the illagers (not a typo) running the place. And maybe arm yourself before you go in?
Don't Look Down (1.12)
Seed: -1240247800
Want excitement mixed with a smattering of death from the off? Look no further. Turn from the spawn and you'll find yourself a deep ravine. Not only that, but there's also a broken mineshaft that hasn't spawned in correctly. How you'll get down to it is anyone's guess, but hey, I just come up with the seeds, it's your job to not die.
The Walking Dead (1.12)
Seed: -908740482700880945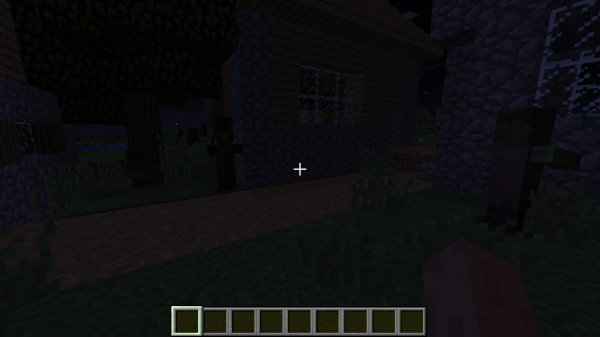 I've never understood why zombies burn in the sun. Isn't that vampires? Anyway, make sure to set the in-game time to night ("/Time Set 12000") when you load in, otherwise this zombie village will be a ghost town thanks to Minecraft's 'mobs burn in sunlight' rule. Also be sure to press 'F' to pay your respects to the villagers who lost their lives bringing you this seed, you absolute monster.
The best Minecraft seeds Console Edition – Xbox 360, Xbox One, PS3, PS4, Wii U, Switch
All the Loot You Could Ever Need
Seed: -5466286504962712638
Sometimes it's okay to cheat. If it wasn't, then what's the point in having seeds? With this one you'll find a rather obscene three jungle mansions as well as three different villages and a sand temple. Just be sure to set the world size to small else the game will spread everything out too far, and that's no fun.
Double the Ocean Monuments
Seed: -315988387620969
Let's dive right into this one. Ocean Monuments are a dime a dozen these days, but what about two in the same vicinity? You'll still need the usual underwater gear and potions, of course, but as a source of prismarine and sea lanterns, this seed has everything you could possibly desire for a decent underwater build.
The Frozen Wastes
Seed: -3342585584230766181
Spawning in a frozen biome is always a pain. The food's normally dusted with frost so you can't mine it and your only chance for survival is poking animals to death so they drop their precious meatsacks. But with this seed, that all changes. Not only is there a village with a mineable food supply, there's also an igloo within walking distance which houses a zombie villager – a super useful way to complete the Zombie Doctor achievement.
Isolated Island
Seed: 8187532624477425642
When you tire of putting up with other people and want to live the quiet life, this seed spawns you on an island away from it all. Sail on the vast water – should you get lonely and decide to reintegrate into society, there's a nearby mansion full of people ready to shout at you for the slightest thing. It's kind of like Twitter in that respect.
The best Minecraft seeds Bedrock Edition – Mobile, Xbox One, Switch, Windows 10
Shipwreck on Land
Seed: -244885508
With the update aquatic out for Bedrock, what better way to test it all than by visiting a shipwreck in the desert (this also doubles up as the perfect example of irony). Why is there a ship in the desert? No idea, but shipwrecks have loot, so it's definitely worth exploring. And you won't even need any underwater potions to search it which is always a plus.
Broken Shaft
Seed: 401598415
Due to the procedural generation of Minecraft, sometimes things break. This seed is, thankfully, when things break in the right way. A short jog from the spawn point is a mineshaft that appears to have broken free from its underground shackles in a bid for freedom, leaving exposed loot and a wealth of unknown prizes to be discovered.
Balanced Survival Spawn
Seed: 1739530041
If you're after a strong start, you're in luck. Not only is there a village spawn nearby, there's also a blacksmith, complete with three diamonds. It's not a game-breaking amount admittedly, but this seed is more about starting a survival world without needing to cheat or become god-like. Three diamonds is the perfect amount to start you off on any new adventure.
Deep Sea Diving
Seed: 2104241268
More underwater update aquatic antics for you. This time we'll be taking a moment to appreciate just how beautiful Minecraft can be when it all comes together. Who'd have thought those murky depths would someday be turned into something so eye-grabbing? Oh, and there's a shipwreck and underwater ruins nearby for all the deep-sea loot hunters out there.
The post 14 best Minecraft Seeds you need to play right now appeared first on VG247.
Read more here: VG247