Fallout 76's Perk system is designed to "help you build a better you," because everyone has to be better in order to survive post-nuclear West Virginia.
Fallout 76 features robust character customization, and a revamped Perks system providing players with plenty of opportunity to create the ultimate survivor.
During a QuakeCon 2018 panel today, host and associate director of content Gary Steinman, producer Todd Howard, project lead Jeff Gardiner, and development director Chris Mayer discussed building characters, and the Perks system.
Not only will players be able to make their characters look however they wish, with the choices available obviously, they can also take a selfie with their kills.
Everything discussed during the panel was previously revealed, but additional details on customization, photo mode, and the Perks system were provided and that's always nice.
Head below for the full thing.
Character Customization and Photo Mode
When players first fire the game up, they will start off by creating a character. Fallout 76 provides players with plenty of choices when creating characters, and it's a flexible system.
Should you decide after the fact you want to be a different race or sex, you can change you character. Skin tone, hairstyle, body type, it's all able to be changed.
Players will also have a Vault 76 I.D. badge which will be displayed throughout the game, and it works as a camera. Zooming in on the I.D. badge will allow players to change field of view, select filters, frames, facial expressions, and even pose for pictures.
It can be used to take snapshots out in the wild which will appear on the loading screen during fast travel.
This sounds rather fun, and we suspect there will be plenty of humorous images floating around after release.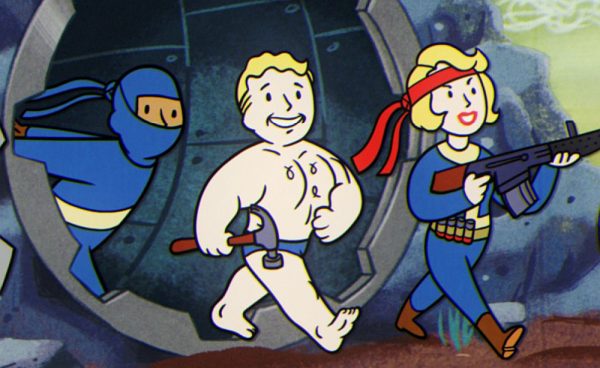 Perks are what makes you S.P.E.C.I.A.L.
Along with being able to customize your character's appearance, Fallout 76 players can also customize their badassery with Perks. While Bethesda explained this before during E3 2018, more details were provided today at QuakeCon 2018 during the panel. You can look over the list of all Fallout 76 Perks revealed so far through our guide.
Choices made with the new card-based system aren't something you'll have to live with – it's extremely flexible. Players are free to switch things up on the fly if they find a certain Perk just isn't working for them.
When the player emerges from Vault 76 at Level 2, first thing they will need to do is chose a S.P.E.C.I.A.L. Once chosen, a Perk in the specific category will nee to be picked.
Perks come in the form of cards and every S.P.E.C.I.A.L. has a pool of points for each Perk. Once the player hits Level 4, cards will rank up and can be combined with the previous to create a more powerful version. Equipping a higher level Perk will cost more points, so keep that in mind before spending accumulated points.
Packs featuring five Perk Cards will drop every two levels, and some are random in order to provide more choice and flexibility. Each pack will also contain a joke card and a stick of gum, the latter of which will stave off hunger for a while.
In short, Perk Cards allow you to craft or fight more efficiently each time you level up and pick a card; however, you'll be limited to how many you can use at one time. And, you can always reroll if you feel you made a mess of it.
Some packs will contain a Perk Card which is a higher level, and if you aren't able to use it just yet, you could be nice and share it with your group of intrepid adventurers.
Deciding to share a Perk Card with the team is beneficial to everyone. Should a Perk contain the ability to find more ammo cans for example, sharing it with the group means everyone will find more ammo. There are hundreds of cards to choose, whether you wish to swap to change builds, or share with others so they can focus on specific group roles is up to you.
What a strange person – Mutations
But what about mutations? Similar to traits in Fallout 1 and 2, players in Fallout 76 can suffer or benefit from mutations.
While some mutations won't show a visual change, some will, and all come with consequences. For instance, a mutation may allow you to jump really high, but on the flip side lowers strength.
Mutations can be cured, or in late game around Level 40 or 50, can be made a permanent part of your build. A Level 40 mutation will work better with a groups perk, and each mutation is capped at 15 for higher levels.
Fallout 76 sound like it will be super fun, even for those a bit wary over the PvP aspect. If you want more even more information on the game, here's everything we know about Fallout 76 ahead of release.
Fallout 76 will release November 14 for PS4 and Xbox One, and on PC through the Bethesda Launcher.
A beta will be made available sometime in October. You can guarantee access by pre-ordering the game, and it starts first on Xbox One.
The post Fallout 76 features a very flexible Perks system and numerous character creation options appeared first on VG247.
Read more here: VG247